Tasneem Shamim is undeniably one of the best clothing brands for women in Pakistan, renowned for its exceptional craftsmanship and exquisite designs. With a strong emphasis on quality and aesthetics, the brand has established itself as a leading name in the fashion industry. Tasneem Shamim specializes in unstitched embroidered suits, particularly their coveted 3 piece lawn suits.
One of the key reasons behind the brand's success is its ability to cater to the diverse needs and preferences of Pakistani women. Tasneem Shamim offers a wide range of options, ensuring that there is something for everyone. Whether it's an embroidered Pakistani dress for a formal occasion or a casual 3-piece lawn dress for everyday wear, the brand has it all.
Why Tasneem Shamim?
The attention to detail and intricacy of the embroidered designs is what sets Tasneem Shamim apart. Each garment is carefully crafted with precision, showcasing exquisite embroidery that adds a touch of elegance and sophistication. The brand's 3 piece lawn suit unstitched collection allows women to customize their outfits according to their personal style, ensuring a perfect fit and individuality.
Tasneem Shamim's Pakistani dresses are particularly popular among women in Pakistan. The brand's lawn fabric is known for its high quality, comfort, and durability, making it ideal for the country's hot and humid climate. The lawn Pakistani suits by Tasneem Shamim combine comfort and style effortlessly, offering women the perfect ensemble for any occasion.
In addition to their embroidered lawn unstitched collection, Tasneem Shamim also offers a wide variety of other fabrics and designs, including chiffon, silk, and organza dupatta. This diversity allows women to explore different textures and materials, making Tasneem Shamim a one-stop-shop for all their clothing needs.
Lawn Unstitched
Collection For Every Women Is Out Now
The unstitched collection by Tasneem Shamim is a true reflection of the brand's commitment to quality and craftsmanship. Each piece is meticulously designed with intricate embroidery, adding an element of sophistication and elegance to the ensemble. The embroidered lawn suits feature a harmonious blend of traditional patterns and contemporary motifs, appealing to a wide range of tastes.
One of the standout features of this collection is the use of high-quality lawn fabric, known for its lightweight and breathable nature. The unstitched lawn dresses by Tasneem Shamim are perfect for the Pakistani climate, providing comfort and ease of movement throughout the day. The fabric's soft texture also adds a luxurious touch, making the outfits a pleasure to wear.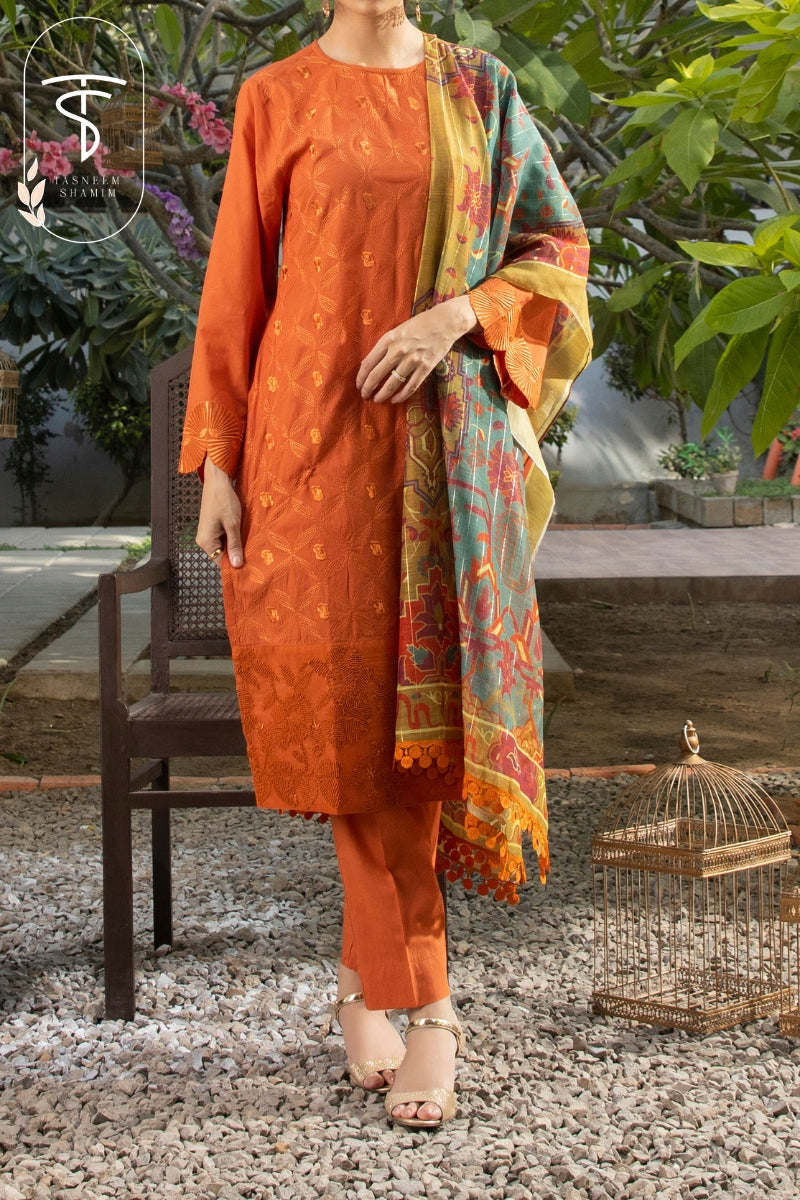 The 3 piece lawn suits in this collection offer versatility and versatility to women in Pakistan. The unstitched format allows for customization, enabling individuals to create a personalized look that suits their style and preferences. Whether it's a traditional Pakistani dress or a contemporary ensemble, Tasneem Shamim provides the foundation for women to express their individuality through fashion.
Adding to the allure of the collection is the inclusion of organza dupattas with the lawn suits. The organza dupattas not only enhance the aesthetic appeal but also add a touch of grace and glamor. The delicate fabric drapes elegantly, completing the overall look with a hint of sophistication. The combination of lawn suits with organza dupattas showcases Tasneem Shamim's ability to blend different fabrics seamlessly.
The lawn Pakistani suits unstitched collection exhibit a wide range of colors, from vibrant hues to subtle pastels. This diverse color palette allows women to choose according to their mood and occasion, ensuring that there is something for every preference. Whether it's a festive celebration or a casual outing, Tasneem Shamim offers options that cater to various style needs.
Tasneem Shamim's latest unstitched collection is a testament to the brand's commitment to staying at the forefront of fashion trends. The collection showcases a perfect blend of traditional elements and contemporary design, striking a balance that appeals to modern Pakistani women with elegant lawn Pakistani suits . With its attention to detail, high-quality fabrics, and versatile options, Tasneem Shamim continues to be a go-to brand for those seeking fashionable and elegant unstitched lawn suits.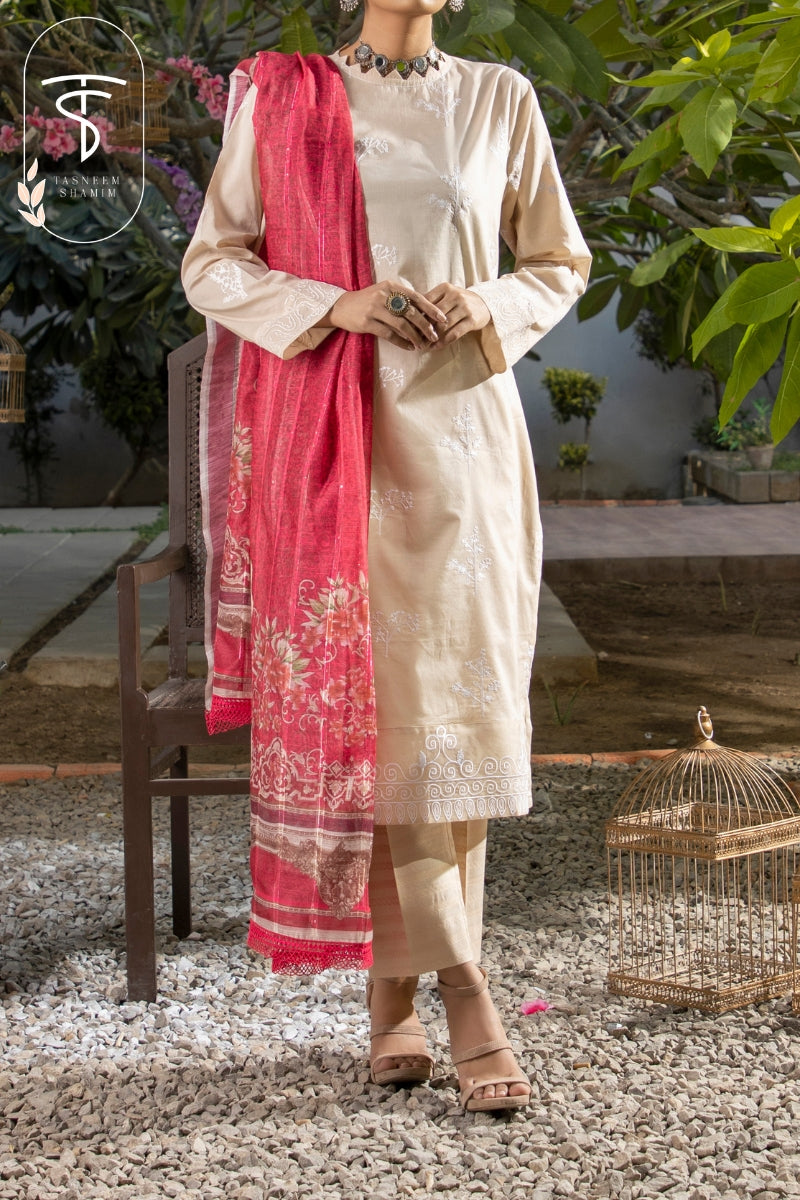 In summary, Tasneem Shamim's latest unstitched collection stands out with its beautifully embroidered lawn suits, offering a combination of comfort, style, and customization. With the inclusion of organza dupattas and a diverse color palette, the collection caters to the varied preferences of Pakistani women. Tasneem Shamim once again reaffirms its position as a leading brand, providing fashion-forward individuals with the perfect canvas to express their unique sense of style through unstitched lawn suits.
Moreover, Tasneem Shamim's commitment to innovation and staying up-to-date with the latest fashion trends is another reason for its popularity. The brand continuously introduces fresh and contemporary designs, ensuring that women can stay fashion-forward and stylish. Whether it's traditional patterns or modern motifs, Tasneem Shamim strikes a perfect balance between classic elegance and modern trends with their best Pakistani 3 piece suit.
The brand's attention to customer satisfaction is commendable as well. Tasneem Shamim strives to provide exceptional customer service, ensuring a seamless shopping experience for its clientele. From personalized styling assistance to prompt delivery, the brand goes the extra mile to meet the needs of its customers.