Are you ready to immerse yourself in a world of timeless beauty and exquisite craftsmanship? We proudly present our latest collection of unstitched lawn suits, where artistry meets comfort to create an unrivaled fashion experience. Embrace the allure of Pakistani dresses and indulge in the enchanting world of embroidered lawn suits, meticulously designed to capture the essence of femininity.
At Tasneem Shamim, we understand that every woman desires to make a bold fashion statement, effortlessly blending tradition with contemporary style. Our unstitched lawn suits are thoughtfully crafted, keeping in mind the diverse tastes and preferences of our discerning clientele. Each ensemble is a masterpiece that celebrates the rich heritage of Pakistani fashion, while seamlessly incorporating modern trends.
Immerse yourself in the mesmerizing world of unstitched Pakistani suits, where colors come alive, and delicate embroideries tell tales of craftsmanship passed down through generations. Our collection boasts an array of vibrant hues, from soft pastels that radiate grace to bold jewel tones that exude confidence. Whatever your mood or occasion, we have the perfect ensemble to elevate your style.
Unstitched Lawn Dresses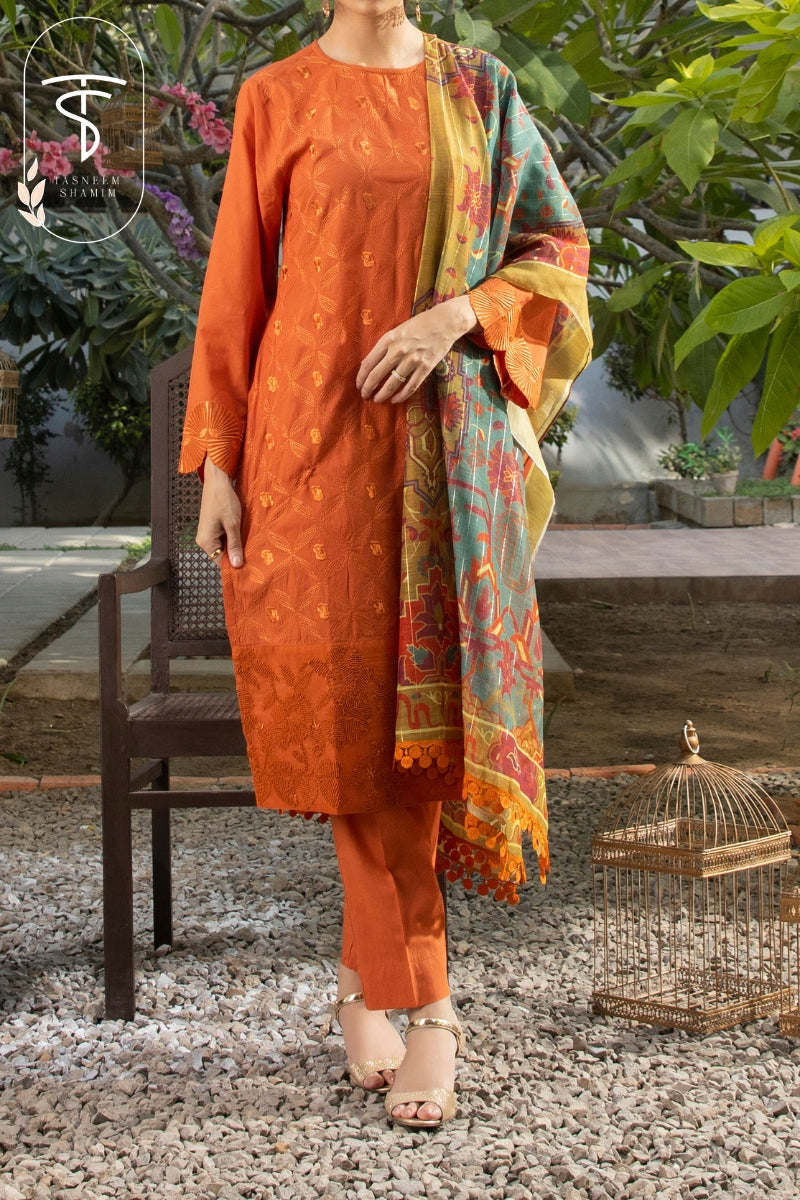 Elevate your style and embrace the epitome of grace with our exclusive collection of lawn unstitched dresses. At Tasneem Shamim, we redefine elegance with every thread, offering you a seamless fusion of tradition and contemporary fashion.
Unleash your creativity and fashion sensibilities as you embark on a journey of self-expression with our unstitched lawn dresses. Immerse yourself in a world of limitless possibilities, where you become the designer of your own sartorial masterpiece. From exquisite floral patterns to intricate geometric motifs, our 3 piece lawn suit collection is a canvas waiting for your personal touch.
Crafted with utmost care and attention to detail, our lawn unstitched dresses are a testament to our commitment to quality. Luxuriously soft and breathable, the premium fabric ensures unparalleled comfort without compromising on style. With each stitch, our skilled artisans bring to life a vision of elegance and sophistication.
Experience the versatility of our lawn unstitched dresses as they effortlessly transition from casual daytime affairs to formal evening soirees. Whether you choose to embrace vibrant hues that reflect your vibrant personality or opt for subtle pastels that exude timeless charm, our collection caters to every taste and occasion.
Complete your ensemble with a touch of ethereal elegance with our organza dupatta. The sheer delicacy of the fabric, adorned with delicate embellishments or captivating prints, adds an element of enchantment to your overall look. Let the organza dupatta be the crowning glory that elevates your style to new heights.
At Tasneem Shamim, we believe that true beauty lies in the intricacies of craftsmanship and the confidence of the wearer. Our lawn unstitched dresses embody the essence of femininity and empower you to make a striking fashion statement that is uniquely yours.
Step into a realm of endless possibilities with our unstitched embroidered suits. Let your imagination run wild as you explore the myriad of intricate embellishments and artistic designs adorning each ensemble. From delicate threadwork to dazzling sequins, every stitch is a testament to the skill and dedication of our master artisans. Experience the joy of creating a personalized masterpiece, tailored to reflect your unique personality.
Embroidered Lawn Suits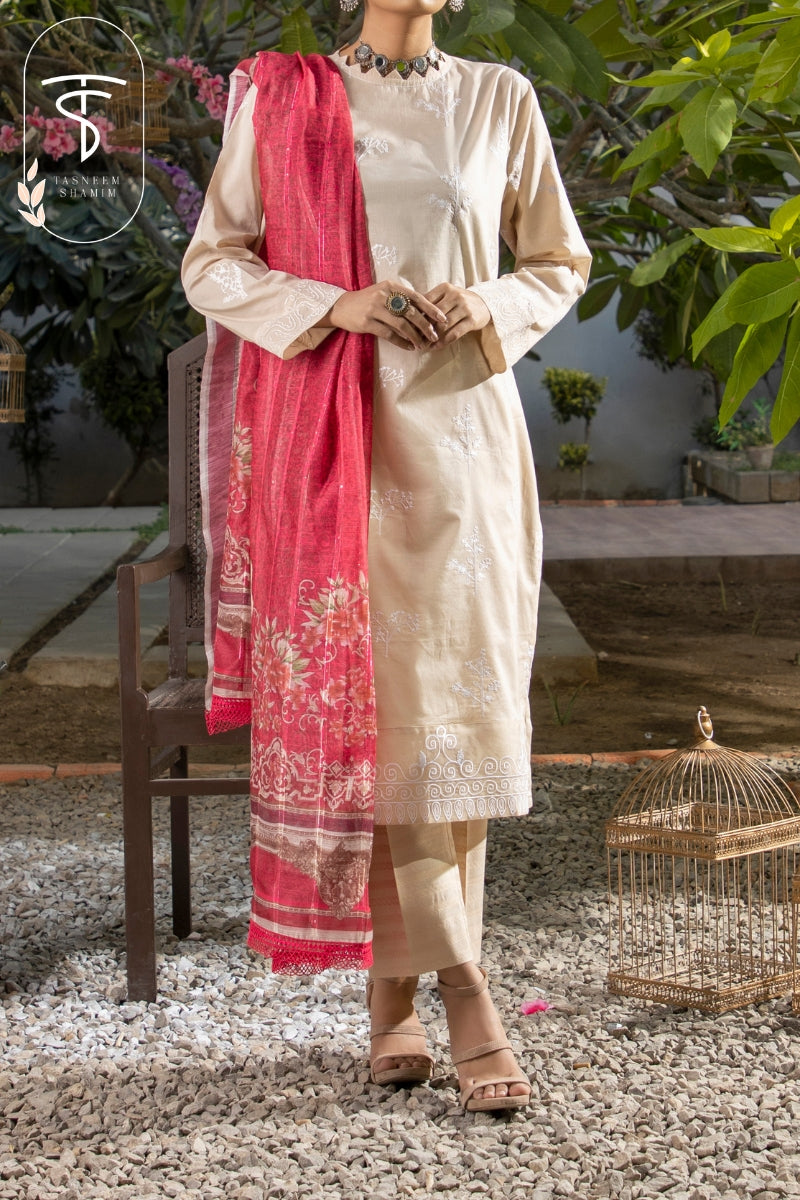 Indulge in the luxury of our three-piece embroidered lawn suits, where elegance and comfort seamlessly converge. The soft, breathable fabric embraces your skin, allowing you to move with grace and confidence. Adorn yourself with the finest quality materials that ensure a perfect drape and an ethereal silhouette. Our attention to detail is unrivaled, ensuring that every piece is a symbol of unparalleled quality and sophistication.
Enhance your ensemble with the crowning glory of embroidered lawn suits with organza dupatta. Delicately crafted, these sheer wonders add a touch of ethereal elegance to your look. Whether adorned with intricate embroidery or featuring subtle floral prints, our organza dupattas are designed to complement and elevate your overall style. Let the sheer beauty of these dupattas be the perfect finishing touch to your unstitched ensemble.
At Tasneem Shamim, we believe that fashion is not just about what you wear; it's about how it makes you feel. Our unstitched embroidered lawn suits are more than just clothes; they are an embodiment of grace, beauty, and confidence. Step into our world, where traditions are honored, and modernity is embraced.
Indulge in the epitome of elegance. Explore our collection of unstitched lawn suits and let your imagination run wild. Embrace the artistry of Pakistani dresses and unleash your inner fashionista. From casual gatherings to grand celebrations, make a lasting impression with our exquisite ensembles.
Discover the allure of unstitched Pakistani suits today and embark on a journey of self-expression through fashion. Trust Tasneem Shamim to be your partner in creating memories that will be etched in the hearts and minds of everyone you encounter.
Welcome to a world where fashion dreams come true. Welcome to Tasneem Shamim, where unstitched lawn suits are transformed into works of art that celebrate the essence of womanhood. Unleash your style, captivate the world, and embark on a fashionable adventure like no other.